If you are new to trading, please make sure you check our quick forex trading guide, so that you can make the most of our forex Telegram signals.
When you start trading forex telegram signals for the first time, there are two important concepts that you need to look for when you open an account: spreads and leverage. 
When the spreads are a bit higher than 0, this means that when a trade is opened it will be put on a slightly different price than the one you see on a chart. For example, when we give a signal for buy and your spread in the account with your broker is not 0, not only will you not put the trade on the price that we suggested but your SL (stop loss) will be put on a different price too. This will result in undesired losses or less profits. 
The other concept, leverage, is the one that gives you more power with the amount of money that you have put in your account. It means that with less money, you can strive for more profits. For example, when your leverage is 100 and you open a trade with 0.05 lots you earn X amount of money. However, when your leverage is 500, you will open a trade with 0.01 lots with the same amount of money, thus resulting in risking less of your account balance.
Remember and be careful that when you use higher leverage, there is a risk of losing your entire account balance much faster. This comes from the fact that every pip move of the forex pair results in more volatility in your balance. Be very careful about this as a lot of traders blow their accounts in seconds thinking that the higher leverage is better and much easier thus resulting in more profits. That is why risk management is very helpful and a necessary thing when it comes to trading our forex Telegram signals. We highly recommend reading our Risk Management guide.
Now, after you understood some of the most important concepts when start trading and opening an account, here are some screenshots of how you can open a trade:
MT4 (MetaTrader 4) desktop platform: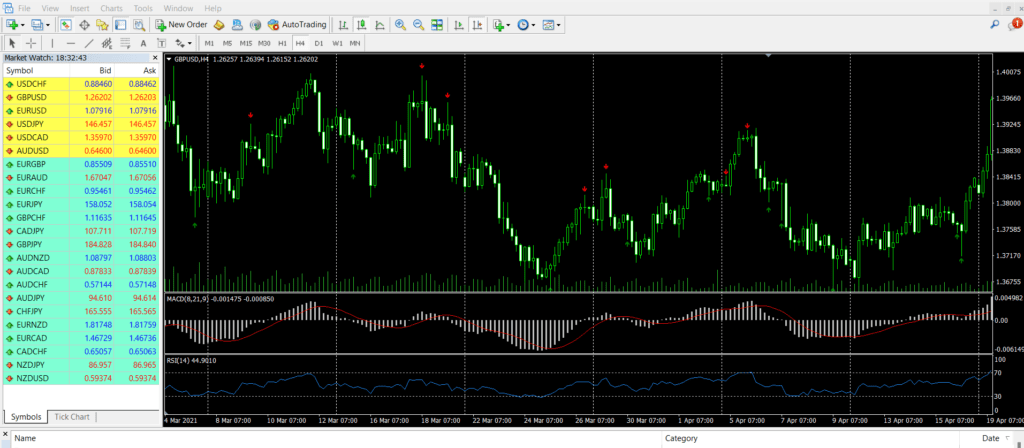 On the left is the column with the forex pairs. When we give a signal, let's say for GBPUSD, then you click twice on GBPUSD and you enter the following window: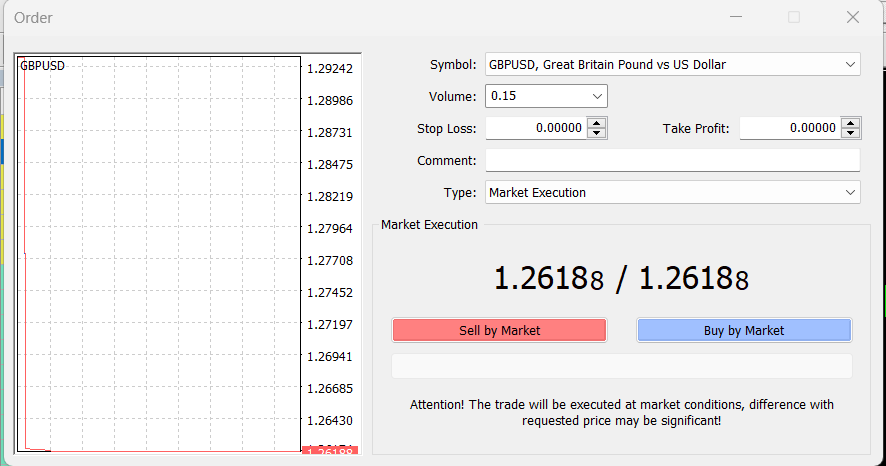 Here, inside the "Volume" bar you insert the number of lots that you want to use for the trade. In "Stop Loss" bar you insert the SL that we have given for a trade. In "Take Profit" you insert the TP3, which is the maximum take profit that we usually give. After that, you click on "Sell by Market" or "Buy by Market" if the trade signal is for sell or buy respectively. 
MT4 (MetaTrader 4) mobile platform: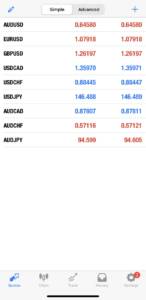 This is how the list with the forex pairs in MT4 appears on the mobile platform. When you click on the pair, let's say again GBPUSD, another list appears with three options – "Trade", "Chart" and "Details". You click on "Trade" and you enter the following window where you should insert the parameters of the trade:
On the top you should select "Market Execution" (it should appear by default as you first option). Then, below it, you type or adjust the number of lots you would like to use. After that, in the "Stop Loss" bar you put the SL given in the signal and in the "Take Profit" bar you put the TP3 of the signal.
This is a very basic guide just to show you how to start putting the trades. There are different strategies and different options that we explain and help with more in depth in the premium group. If you are not confident enough, you can always contact us, or join our channel to receive free forex Telegram signals.